Lip or Tongue-Tie Release ~ Laser Frenectomy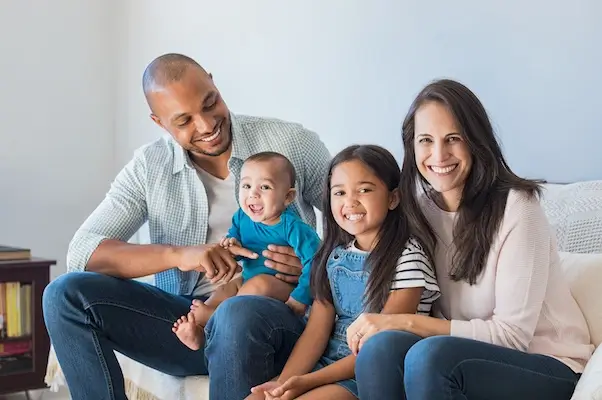 The root of a lip or tongue tie is a small band of tissue called a frenulum. A frenulum attaches your tongue to the floor of your mouth, and two frenulum's connect your upper and lower lips to the gums. Suppose a frenulum is too restrictive and prevents you from correctly moving your lip or tongue. In that case, it can severely affect your eating and speaking ability. It can also hinder the development of your child's mouth. During a personalized consultation, our Kenosha dentist, Dr. Felicia Mata-Stein can answer questions about lip and tongue ties. Call our Denthetics, LLC dental office in Kenosha or downtown Loop Chicago for a tongue-tie release.
Causes of Lip & Tongue-Ties
Lip and tongue ties are conditions that a child is born with. Typically, the lips and tongue are supposed to pull away from the rest of the mouth during apoptosis. However, in some cases, the separation isn't finished by the time the process ends. As a result, the child won't be able to move their lip or tongue as freely as they should. To restore the full mobility of the mouth, we need to remove the tissue that is not required. With advanced technology, Dr. Mata-Stein utilizes a laser to perform a lip and tongue-tie release for patients in the Kenosha area.
How Is A Tongue-Tie Treated?
A frenectomy is the treatment for treating a lip and tongue-tie. Simply put, your cosmetics and family dentist will remove the unneeded soft tissue holding the tongue or lip in place so you can eat or speak freely. Our dentist, Dr. Mata-Stein has years of experience and advance training in performing this procedure, and she uses the latest technology and techniques, such as lasers, to achieve the best results.
Laser Frenectomy
Instead of scissors or a scalpel, we can eliminate oral tissue that isn't needed using a laser. Because the energy of a laser is so highly concentrated, it's easier to be as accurate as possible with the incisions it makes, making the treatment more comfortable and keeping the amount of tissue removed to a minimum. As an additional benefit, the laser doesn't produce any heat, sounds, or vibrations, making it ideal for anxious children or older patients with some form of dental phobia.
Using a laser to perform a frenectomy will reduce the bleeding and discomfort you experience during the procedure. The mouth also tends to heal faster from laser treatments than oral procedures using traditional metal instruments. In many cases, there is no need for sutures afterward. If you have a loved one who is particularly nervous about receiving dental care, a laser frenectomy can be particularly useful.
Traditional Tongue-Tie Release
Dr. Mata-Stein performs a traditional frenectomy with surgical scissors. This technique is naturally a very effective way to eliminate unnecessary tissue. Still, the downside is that many patients find the treatment rather uncomfortable. It's also challenging to control how much tissue is removed during the process; we don't want to eliminate more than necessary. Safety and practicability are why we look to alternative ways to perform procedures, especially with younger children who have relatively small mouths and a tendency to move around during stressful situations.
Schedule A Laser Lip or Tongue-Tie Release
Contact our highly trained Kenosha dentist at (262) 612-3807 for a laser frenectomy. Dr. Felicia Mata-Stein evaluates and treats patients for TMD / TMJ from Kenosha, Pleasant Prairie, Sturtevant, WI and many surrounding areas. You may also schedule at our downtown Loop Chicago dental office if you are experiencing signs and symptoms of TMJ.