Dentures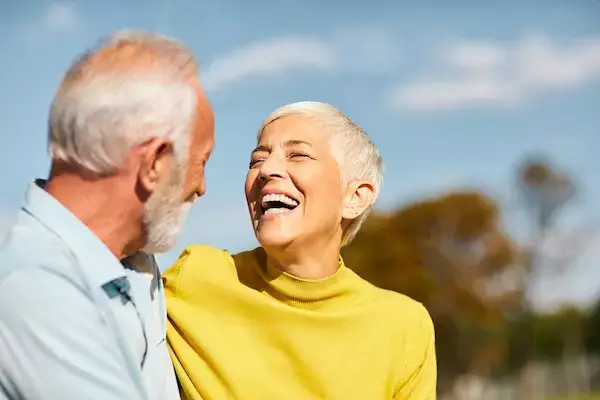 At Denthetics, LLC in Kenosha, Dr. Felicia Mata-Stein uses dentures to replace one, two, or several missing teeth. Dentures have various benefits and are much more affordable than dental implants. Also, with dentures, the patient doesn't need to undergo any invasive procedure, which is an excellent alternative to replacing a tooth. Our Kenosha dentist will answer your concerns and discuss the best option for you and whether you need partial or complete teeth replacement.
Types of Dentures
The type of dentures needed will depend on your condition and what our Kenosha dentist, Dr. Mata-Stein recommends for your smile. Allow us to take a look at some of the types of dentures:
Removable Partials ~ if you need a replacement for two or more neighboring teeth, the obvious solution would be removable partials. Partials come with clasps on both ends and are designed to be attached to either side of the teeth for support.
Flexible Denture ~ Flexible are the most common type of removable partial dentures. It is flexible, making it adhere better to the texture of the gum and offers less irritation.
Fixed Dental Bridge ~ are great options for those who do not prefer clasps. It is permanently attached to the crowns for support.
Complete or Full Denture sets ~ for jaws that require replacement teeth. It sticks to the gum through suction.
Partial Denture
The removable partial dentures are composed of an acrylic base that matches the color of the patient's gums. Partial dentures are created to replace one or more several teeth that you have lost due to an injury or periodontal disease. It also helps to keep the remaining ones from migrating into spaces that can lead to oral health problems in the future.
Complete Tooth Replacement
Full or Complete Dentures are removable teeth that Dr. Mata-Stein uses to replace a complete set of natural teeth in the upper or lower jaw when the patient is experiencing toothlessness or edentulism. Your specialist will perform dental tooth extraction of any remaining teeth and take dental impressions of the remaining teeth. The prosthetic teeth will result in improved comfort, require minimal dietary restrictions, prevent oral bone loss, improve oral hygiene, and make the patient look and feel great.
Implant-Supported Denture
Traditional denture styles are still excellent choices, but some patients may find them slightly unstable. Unsupported tooth replacements can slide, shift, or even fall out. But there is a solution. New advancements in dental medicine have allowed practitioners to anchor your full or partial replacement using dental implant posts.
Dr. Mata-Stein often suggests implants to replace individual teeth. For example, for typical implants, the implant surgeon places an implant post and affixes a new crown (tooth replacement) to the top. However, a restorative dentist can also use the post as an anchor for dentures.
The advantage of this style is that they provide profound stability and durability for your replacement teeth. And they don't sacrifice convenience. In addition, implant-supported tooth replacements are still removable, meaning you can remove them when you're not using them.
Schedule A Consultation at Denthetics, LLC
Call our Denthetics, LLC team at 262-612-3807 to schedule an appointment. Our Kenosha dentist, Dr. Felicia Mata-Stein, treats patients various types of dentures from Kenosha, Pleasant Prairie, Sturtevant, WI and many surrounding areas. Dr. Mata-Stein also patients with dentures at her Loop, Chicago dental office in downtown.