Meet Dr. Felicia S. Mata-Stein
Meet Dr. Felicia S. Mata-Stein
Family & Cosmetic Dentist in Kenosha & The Loop, Chicago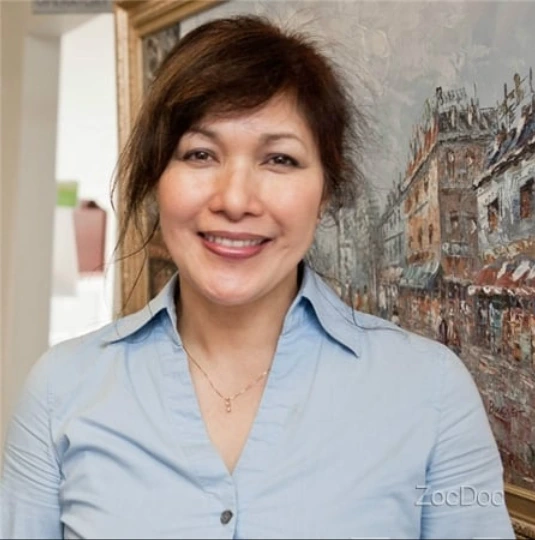 Confident With A Gentle Touch Doctor for Both Children and Adults!
Dr. Mata-Stein is a graduate of UIC dental school, one of the best in the country. She has been a dentist for years and participated in so many post-graduate courses in different fields of dentistry and learned from the best doctors since receiving her D.D.S. degree.
As a healthcare provider, her goal is to deliver what is best for her patients and give solutions to their concerns. Her knowledge in head and neck anatomy and pain management in dentistry was further enhanced when she joined the medical aesthetic group.
She integrated Medical Aesthetics in her practice and learned from the finest plastic surgeons and facial aesthetics physicians to deliver the non-invasive surgical, safest and natural looking outcome in using Botox and Dermal Fillers, and Advanced Thread Lift procedures. She is Board Certified by American Academy of Procedural Medicine.
When a new patient comes to her office, she thoughtfully listens first and does a thorough examination. She reviews and discusses the diagnosis and treatment options so her patients can make the best decision for their health, function, and beauty.
Dr. Mata-Stein wants you to save your teeth for the rest of your life to help you slow down aging with aesthetics. She does implants but there are conservative ways to save teeth. She is also certified to use a laser to restore even badly broken teeth based on the crown root ratio before it turns into an implant. New cavities don't require shots sometimes. Her gentleness and emphasis on patient comfort as well as keeping up-to-date with the latest advancements in procedural training enable her to provide her patients with the best quality of dental care.
Dr. Mata-Stein's wide range of experience in different areas of dentistry – from preventive to keep your gums healthy, cosmetic that includes beautiful tooth-colored fillings, non-metal crowns and veneers next to nature, orthopedic, orthodontic, aligners like ClearCorrect, Invisalign, orthopedic appliances in aligning TMJ, and treat Sleep Apnea, Gum Rejuvenation or Chao Surgical Pinhole Technique for gum recession ( faster healing) vs. harvesting tissue graft from the palate with stitches, root canal treatment, and more.
She is focused on preventive treatment holistically and has extensive knowledge of myofunctional appliances that can help prevent improve airway and malocclusion that hepls balance the jaw and face on children from age 3 and adults. There is no age limitation. It's amazing how some orthopedic appliances can result in instant non-surgical face lift by just opening the vertical dimension, and enhancing the lower third of the face. Imagine how it will benefit the aging population with deep bite and wrinkles! The result: Beautiful younger faces and improved airway for better health and longer life- again, non surgical.
It has been found that skeletal jaw relationship, e.g., narrow arches, deep bite, and retruded mandible can adversely affect airway, therefore, will impact proper breathing and sleep resulting to ADD/ADHD, depression, behavioral problems, low immune system, poor performance in the class, traumatic bite relationship resulting to bone loss and gum disease, .. Can you imagine if someone is suffering from Bruxism or teeth grinding, which usually occurs during sleep?.
These facial and dental problems can be prevented BEFORE permanent teeth erupt in growing children. Adults can still achieve great improvement from non-surgical procedures in enhancing the jaws. She seldom refers to challenging cases of surgery, unless it's the last alternative.
It took 10 years before Dr. Mata-Stein offered Botox in her practice to be assured of its safety for her patients. She's later convinced it's the safest procedure to relax the jaw muscles to prevent teeth from cracking due to heavy Bruxism and heavy clenching while removing wrinkles!
Don't wait too long while there's still hope. Book an appointment now!
– Dr. Felicia S. Mata-Stein
Dr. Mata is an active member of the following associations to acquire the best knowledge to benefit her patients:
AGD (Academy of General Dentistry)
AAGO (Academy of Airway & Gnathologic Orthopedics)
AAPMD (American Academy of Physiologic Medicine and Dentistry)
AAFE (American Academy of Facial Esthetics)
AAOPM (American Academy of Procedural Medicine)