Full Mouth Reconstruction
Full Mouth Reconstruction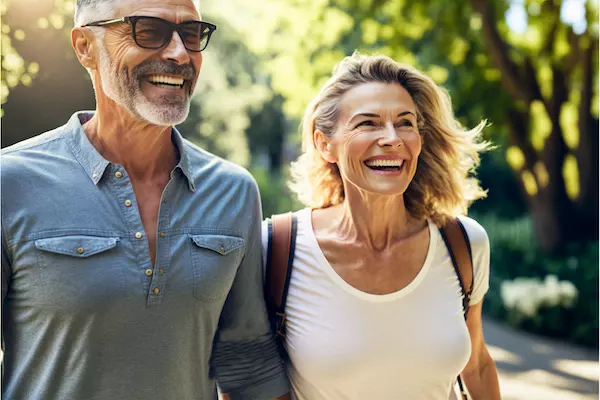 A full mouth reconstruction may involve one or several restorative dental treatments to restore and replace the teeth in a patient's mouth. Individuals with multiple oral health issues, such as missing teeth, tooth decay, or damaged teeth, may benefit from a full mouth rehabilitation to restore the functionality and appearance of teeth. With advanced training in cosmetic dentistry, our cosmetic & restorative dentist, Dr. Felicia Mata-Stein, addresses multiple aspects of the mouth and teeth to provide a functional and sturdy set of teeth that look great and natural.
If you want to restore the functionality and appearance of your smile with a full mouth reconstruction, call 262-612-3807 to schedule an appointment at our dental office, Denthetics, LLC in Kenosha or Loop, Chicago today!
What Is A Full Mouth Rehabiliation?
A full mouth dental reconstruction is a comprehensive treatment that uses multiple dental procedures to correct various issues with an individual's smile. The goals include stabilizing a person's oral health, improving their appearance, and improving their teeth' function.
Our cosmetic & restorative dentist, Dr. Felicia Mata-Stein, uniquely designs each full mouth reconstruction to fit each patient's specific needs, so no two are ever alike. Generally speaking, Dr. Mata-Stein can complete one over a few weeks or months with several appointments depending on how in-depth of treatment is needed. The key to a full mouth reconstruction is not just which treatments are used but also in what order and how they come together. Each procedure needs to fit seamlessly with the others and provide optimal function.
In any case, Dr. Mata-Stein will guide you through the complete process so you can always know what to expect at each step. All you need to do is follow her instructions, and in time, you will see a beautiful, healthy smile in the mirror again.
Full Mouth Reconstruction Process
Each full mouth reconstruction starts with a thorough oral exam. During this, our dentist, Dr. Mata-Stein will observe your teeth, gums, bite alignment, and many other factors that contribute to your dental health. She will also take various images, x-rays, and scans to understand your mouth further and how it functions. Once she has gathered this information and you have discussed what you want the outcome for your reconstruction, she can begin to formulate your customized treatment plan.
Your full mouth reconstruction may include several, but not all, of the following treatments:
Porcelain Veneers: Extremely thin porcelain shells that Dr. Mata-Stein fits to the front of the patient's teeth, and they can be designed to correct a variety of cosmetic issues simultaneously, such as chips, cracks, stains, gaps, and slight misalignments. You can get a few or a complete set to entirely makeover your smile.
Teeth Whitening: If your teeth have become stained due to decay or other factors, such as coffee, wine, tobacco use, or genetics. Dr. Mata-Stein uses this treatment to make your smile brighter while reducing teeth sensitivity effectively.
Dental Bonding: Dr. Mata-Stein can quickly fix small chips, cracks, and gaps using a tooth-colored composite resin applied directly to your teeth.
Dental Crowns: These tooth-shaped restorations are highly durable and can be used to repair severely cracked or decayed teeth. We can shape them to resemble natural teeth so they blend seamlessly with your smile.
Dental Implants: Dental implants are simply the best treatment available today for replacing missing teeth. They reconstruct a tooth from root to crown, giving it a realistic appearance and unrivaled security. They can replace single or multiple teeth and even support a full denture.
Full & Partial Dentures: For those who are missing multiple teeth or an entire arch, dentures offer an effective and affordable solution to help people regain their complete smile.
Periodontal Therapy: The mouth's health is often dictated by the health of the gums. With these treatments, we can ensure your mouth is entirely gum disease-free and ready to support all of the dental work your reconstruction will involve.
Schedule A Personalized Consultation
Contact Denthetics, LLC, at 262-612-3807 to schedule a full mouth rehabilitation consultation with our Kenosha dentist, Dr. Felicia Mata-Stein. Patients come to our dental practice for full mouth reconstruction from Kenosha, Pleasant Prairie, Somers, Sturtevant, Mt. Pleasant, WI and many surrounding areas. Dr. Mata-Stein also treats patients at her downtown Chicago dental office in The Loop area for full mouth reconstruction and rehabilitation.