Restorative Dentistry Treatments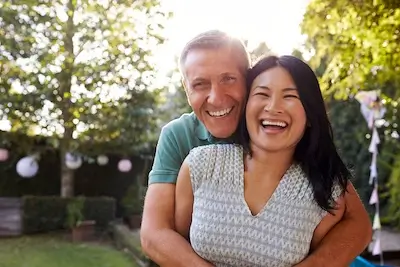 Restorative dentistry involves repairing or replacing teeth damaged by injury, decay, or disease. When restoring your natural teeth, our dentist, Dr. Felicia Mata-Stein and her team in Kenosha will try to preserve as much of your natural tooth as possible. Modern treatment options like tooth-colored or white fillings and dental crowns allow us to maintain the tooth structure while giving you natural-looking results.
Dental Implant Restorations
A dental implant restoration is a dental procedure for replacing damaged or missing teeth. Dental implant restoration is made up of two primary components. The implant is an artificial root and a restoration that replaces the lost tooth. Implants are often fitted with crowns but can also serve as bases for other dental restorations, like dentures and bridges. Dentists highly recommend dental implants because of their bone-preserving properties. Learn more about dental implants restorations…
Dental Crowns
When teeth are more severely damaged or broken, a dental crown is often a better solution for transforming their appearance and functionality. A dental crown is made of ceramic or porcelain material that surrounds the tooth and looks natural. Dental crowns improve the tooth's appearance and strength because when our dentist, Dr. Mata-Stein uses a dental crown, nothing touches the natural tooth.
Dentures
If you have lost teeth, or even a single tooth, whether from an injury, tooth decay, or gum disease, you're not the only one! Losing teeth can be a big blow to your self-confidence and make eating and speaking difficult, no matter your age. But there's no need to worry! Full and partial dentures can help restore the function and appearance of your smile. Our restorative dentist, Dr. Mata-Stein treats Kenosha patients with cosmetic dentures that are artificial teeth made to look like natural teeth.
Dental Bridges
A dental bridge is a restoration that Dr. Mata-Stein uses to replace one or several consecutive missing teeth in a row. A dental bridge could be anywhere from one tooth to four teeth. The bridge is composed of two dental crowns and several replacement teeth. The crowns are anchored on the adjacent teeth or implants depending on the type of dental bridge needed to improve your smile. Bridges can be made from various materials, but porcelain is usually the best choice for a durable, natural-looking result.
White Fillings
Tooth-colored or white fillings, also called composite fillings, closely resemble the natural tooth. They provide durability and resistance to wear and tear while offering a natural appearance that closely matches the color of your teeth. White fillings can be used in small or medium cavities and are less expensive than crowns, inlays, and onlays. Learn more about white fillings…
Cosmetic Bonding
Dental bonding is a popular and routine cosmetic treatment that can improve your smile's appearance. Cosmetic bonding involves using the same compound used in white fillings to repair cracks and chips or enhance the appearance of teeth. Dental bonding can also close gaps between teeth and conceals permanent discoloration. As a result, some patients who desire a smile makeover may choose cosmetic bonding over other cosmetic dental treatments. Learn more about cosmetic bonding…
Full Mouth Reconstruction
If you are suffering from damaged or missing teeth due to failed dental work, Dr. Felicia Mata-Stein can help. A full mouth reconstruction is a customized plan that comprehensively addresses your dental needs through phased treatments. Dr. Mata-Stein treats patients with full mouth reconstruction to give patients a fully functioning and beautiful smile. During your initial consultation with Dr. Mata-Stein, she will thoroughly examine your teeth, gums, temporomandibular joints, jaw muscles, and bite to determine your treatment options. Learn more about full mouth reconstructions…
Contact Our Dentist At Denthetics, LLC!
Contact our restorative dentist at (262) 612-3807 to schedule a consultation for dental implants, dental crowns, dentures, and more at Denthetics, LLC to enhance your smile. With over 25 years of experience and training, Dr. Mata-Stein provides various restorative dentistry treatments to restore smiles for patients from Kenosha, Pleasant Prairie, Sturtevant, WI and many surrounding areas. We also treat dental implant and dental crown patients at our Loop Chicago dental office.