Dental Crowns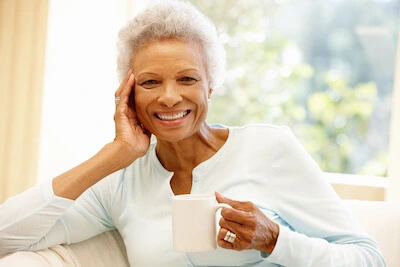 Restoring your smile may take the work of crowns and bridges that help to fill in gaps and spaces where you are missing dentition. Having crowns and bridges placed is relatively easy and is some of the most common treatments at Denthetics, LLC. With advanced training in cosmetic and restorative dentist, Dr. Felicia Mata-Stein treats many dental crown patients at her Kenosha and Loop Chicago dental offices.
What Is a Dental Crown?
A crown, or cap, is meant to cover a tooth completely that has been compromised in some way, usually with root canal therapy, and helps to achieve the appearance, size, shape, and functionality of a whole tooth. Dental crowns can be made using a variety of different materials. Two of the most common materials used to create dental crowns are porcelain and zirconia. Porcelain is often fused with metal to create the prosthetic. In comparison, zirconia acts on its own as a durable and long-lasting dental option.
Benefits of Dental Crowns
There are many reasons for needing a dental crown that, include:
Restore an already broken tooth
Protect a weak tooth from decay from breaking or cracking
Cover and support a tooth with a more extensive filling
To hold a bridge in place or to cover a dental implant
To make a cosmetic modification
Candidates for Dental Crowns
Once our dentist, Dr. Mata-Stein examines your teeth and smile, she may recommend crowns alone or combined with other dental treatments like dental veneers or dental implants, depending on the patient's specific smile needs. Some of the reasons why we may recommend a dental crown include the following:
Badly broken, chipped, or worn-down teeth
Moderate to significant aesthetic concerns
Following root canal therapy
To restore the function and aesthetics of your smile
To cover dying, discolored teeth
For individual tooth replacement over dental implants
Creating teeth that look straighter and fuller
Dr. Felicia Mata-Stein will consult with you to determine whether our porcelain crowns will be appropriate for your smile needs. Our dentist will also discuss the types of dental crowns and which crown will be best for your smile needs.
What Is The Dental Crowns Treatment Process?
The procedure to have a crown placed is quick, easy, and painless. First, your cosmetic & restorative dentist, Dr. Mata-Stein, will file down the area holding the crown to hold onto the prosthetic. Next, she will make impressions of the site and send it to a lab for the crown or dental bridge to be specially made for you. You will go home the same day with a temporary crown or bridge until the long-term prosthetic comes in. Once it arrives, your cosmetic dentist will remove the temporary and adjust the new crown or bridge to fit perfectly. Finally, Dr. Felicia Mata-Stein will cement the crown into place, and you will have a new functioning and restored tooth.
Dental Crowns With A Smile Makeover
Like other types of cosmetic dental treatments, crowns can transform the appearance of your entire smile. But they also serve a significant role in restoring the function and durability of damaged or decayed teeth.
Smaller, cosmetic dental fillings are not appropriate when teeth are badly compromised. Unlike a restoration that "fills" a tooth's damaged or decayed portion, a dental crown surrounds the entire tooth to preserve structural integrity. This protection allows the doctor to assist you in retaining your natural teeth yet completely changing the way they look!
Schedule An Consultation At Denthetics, LLC
Contact our dental team at (262) 612-3807 to schedule a dental crown consultation in Kenosha. Our dentist, Dr. Felicia Mata-Stein, treats many patients for dental crowns from Kenosha, Pleasant Prairie, Somers, and many surrounding areas. Dr. Mata-Stein also treats patients at her downtown Chicago office in the Loop area.