Children's Dentistry ~ Kenosha Children's Dentist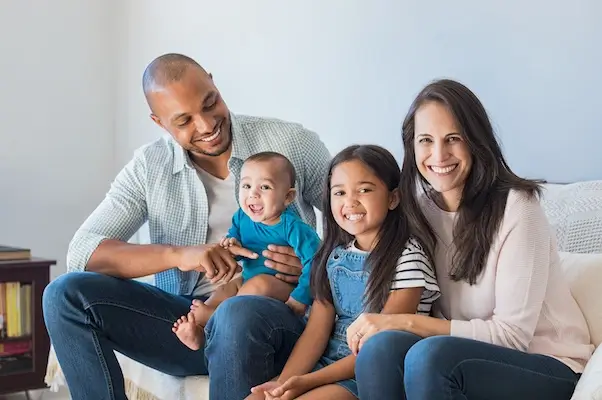 Our entire team at Denthetics, LLC, loves to meet new patients because we know it begins a lifelong friendship when your child sits in our dentist chair for the first time. Our Kenosha children's dentist, Dr. Felicia Mata-Stein, connects with each child in a way that makes them feel safe, encourages healthy dental habits at home, and to feel comfortable visiting the dentist! We look forward to caring for them from their first tooth to their first day at college.
Dental Cleanings & Exams
Keeping your kid's smile healthy and strong is as important to us as it is to you. Our pediatric dentist in Kenosha promotes prevention at home and in our dental office! We do our best to prevent cavities and strengthen their young teeth to set the stage for a lifetime of a healthy smile. Dr. Mata-Stein will teach your child how to brush and floss effectively and, when appropriate, recommend preventive treatments such as fluoride therapy and dental sealants.
Dentistry for Infants
To follow the American Dental Association's recommendation, our pediatric dentist recommends scheduling your child's first dental exam before their first birthday (even if teeth have yet to emerge). During your first visit, our Kenosha dentist, Dr. Mata-Stein may quickly check your child's gums and existing teeth to examine their bite while looking for any potential infection. Our Kenosha dentist has experience providing infant dental care, and we'll happily answer all your dental health questions as a new parent, including those relating to gum care, frenectomies, and frenuloplasties.
Dentistry for Toddlers
When your child's baby teeth begin to develop, it's time to step up the dental care, and our children's dentist, Dr. Felicia Mata-Stein is here to care for your toddler's oral health. Sucking fingers and thumbs is a typical move for many toddlers, but what parents don't often know is that this can cause damage to the position of the jaw over time. Our Kenosha pediatric dentist is happy to answer any questions about this habit and offer tips for motivating your toddler to grow out of this habit.
Outside of dental education about non-nutritive habits, our children's dentist, Dr. Mata-Stein will work to strengthen your child's smile with routine dental cleaning and exam. Pediatric dental cleanings are essential for growing smiles because they eliminate accumulations of dental plaque. This bacteria-filled substance can cause cavities. By cleaning it away, we can protect their teeth from tooth decay and help your toddler feel clean and happy!
Dentistry for Children
As a child ages, their baby teeth will fall out, and permanent adult teeth will grow in their place. During this time, we'll work with you and your child and teach them great oral hygiene habits to protect their smile for a lifetime. Around age 7, our pediatric dentist may recommend that you schedule your child for an orthodontic consultation. Orthodontics consultations don't always mean braces; it gives us time to familiarize ourselves with your child's unique needs and help you choose the best time to start any necessary treatment!
Dentistry for Teens
At Denthetics, LLC, we want your teen to feel comfortable and confident that they are in great hands. With school, sports and activies, friends, and personal development taking up so much of their time, it is our job to ensure teens don't have to worry too much about their teeth. Dr. Mata-Stein is happy to work with your child up to age 18 to provide the dental education and services they need to maintain an attractive, confident smile. Throughout the teenage years, we'll monitor their teeth for any signs of tooth decay, provide preventive care to ensure their teeth stay strong and healthy, and help them establish an oral health routine that protects them.
Schedule A Laser Lip or Tongue-Tie Release
Contact our highly trained Kenosha family & children's dentist at (262) 612-3807 to schedule a dental consultation for you or your child. Dr. Felicia Mata-Stein cares for patients of all ages from Kenosha, Pleasant Prairie, Sturtevant, WI and many surrounding areas.