Dental Implant Restoration
Dental Implant Restoration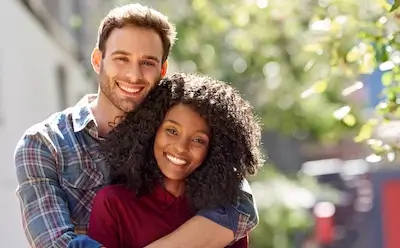 Dental implant restoration is a procedure for replacing one or multiple missing teeth. Individuals with missing teeth can suffer from a lack of self-confidence, which can be a significant deterrent to social interaction. For example, embarrassment about missing teeth may prevent a person from confidently smiling or participating in everyday social activities. The missing tooth or teeth may even affect the way a person speaks. In addition, general health may suffer as eating may be difficult. On the other hand, restoring missing teeth can improve a person's appearance, self-confidence, and health. Fortunately, there is a perfect solution for replacing missing teeth. Many patients are deciding to fix the problem by choosing from various available dental implant restoration procedures.
What is Dental Implant Treatment?
Dental implant restorative treatment is a procedure that creates an artificial tooth to replace one or multiple missing teeth. The process involves attaching a crown to an implanted root that fuses with the natural bone over time. Then, the implant specialist will place the
dental crown
or artificial tooth over the implant, a titanium post that functions as the permanent root for the new tooth.
Types of Crowns Used in Implant Restoration Treatment
With dental implants used as a foundation for the new tooth, there are two options for restoration. These two methods for dental implant restoration are screw-retained or cemented. A screw-retained implant restoration has apparent advantages over the cemented dental implant method because it is more easily repaired when a crown is fractured.
Dental Implant Restoration Procedure
The dental implant restoration treatment will depend on the number of implants required. During your initial consultation with Dr. Felicia Mata, she will examine your smile and determine a treatment plan. Then, you will visit our recommended oral surgeon or dental implant specialist, who will perform the implant placement surgery.
Implant Restoration Process
Dental implant restoration treatment is usually a two-step process. The length of time required for a dental implant restoration varies per patient. For example, patients may need a tooth extraction before their implant specialist can place the dental implant. Likewise, some patients require a single-tooth dental implant, while others require multiple-tooth dental implants. During the first step, the dental implant specialist will perform dental implant surgery to place your dental implants. Depending on your needs and preference, your dental implants may be made of titanium or zirconia material. Once the dental implant fuses with the bone, you will return to Dr. Felicia Mata to complete the dental implant treatment. During your appointment, Dr. Mata will attach the implant abutment and crown. By placing A single dental implant crown is designed to look like a natural tooth. Still, it will require expertise for proper alignment and placement. With advanced cosmetic and
restorative dentistry
training, Dr. Mata will fit your dental crown to blend with your natural teeth.
Can A Crown Be Replaced On A Implant Restoration?
In most cases, dental implant restorative treatment is a successful permanent process, but replacing crowns on a dental implant is possible. If necessary for aesthetics,
Dr. Felicia Mata
is skilled in replacing dental crowns on dental implants.
Benefits of Dental Implant Restoration
Implant restoration has provided solutions for many burdened by missing teeth and prefers not to wear dentures. After reviewing the process and the benefits associated with dental implant restoration, many patients choose to undergo this implant restoration procedure. When they discover the many advantages of implant restoration and available options, many decide to invest in this permanent solution. Dental implant restoration has many advantages over alternative options, such as dentures. These benefits include:
Permanent way to replace teeth
Improve Speech
Restore the ability to chew and eat properly
Facial features are more refined with restored teeth.
The teeth are held in place and do not move or shift.
S-Implant
At
Denthetics, LLC
, we use the most advanced dental technology for dental implant treatment. We utilize a 3D technology, called the S-implant system that determines the position of each dental implant with 100% accuracy. For Kenosha patients, this means that the dental implant will be placed with precision while eliminating any discomfort during treatment.
Schedule A Personalized Consultation Today!
Contact our cosmetic and restorative dentist, Dr. Felicia Mata at
262-612-3807
if have missing, chipped, or cracked teeth to schedule a consultation today! We treat patients for dental implant restorations and dental implants from Kenosha, Pleasant Prairie, Somers, Sturtevant, Mt. Pleasant, and many surrounding areas.