Teeth Whitening for Brighter, Whiter Teeth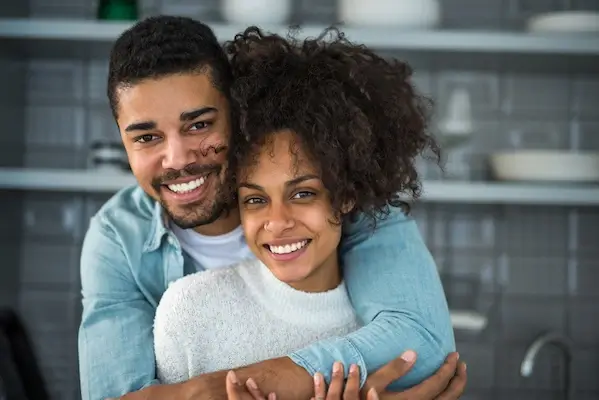 Keeping our teeth their whitest can be much more complicated than it sounds. With all the wine, coffee, smoking, and other foods that can stain our teeth daily, even proper maintenance sometimes leaves them a bit dull or lackluster. Teeth whitening is the perfect way to restore the natural color of your teeth or even make them whiter if you would like. With over 25 years of experience and training, our cosmetic dentist, Dr. Felicia Mata-Stein, offers teeth whitening in Kenosha for patients looking for a brighter, more confident smile at Denthetics, LLC.
Teeth Whitening Process
Our cosmetic dentist, Dr. Felicia Mata-Stein utilizes a tray tooth whitening system to whiten your teeth. This tray teeth whitening system is completed in 2 simple steps. The first step is for our dentist, Dr. Mata-Stein to make an impression of your teeth. Then, with this dental impression, we'll craft custom whitening trays that they can use repeatedly. Lastly, you will wear the tray with whitening gel for a short time, daily, for a few days. Our teeth whitening system at Denthetics, LLC often produces a whiter smile of 4 to 8 shades!
Benefits of Tooth Whitening
Eliminates Yellow Stains
Having stained teeth can be embarrassing. Stains occur for reasons like smoking, drinking certain liquids, medications, and tooth decay. Whitening is ideal for those whose natural teeth have fallen victim to staining. In addition, this procedure is a fast and effective way to eliminate yellow coloring, improving your smile and self-esteem.
Brighter And Healthier-Looking Smile
Poor dental care can lead to discolored, dull, and yellowish or even brownish teeth that can make you feel embarrassed and self-conscious. If not properly treated, this can lead to more severe oral issues later. Whether you are considering an in-office or at-home whitening treatment, our Kenosha cosmetic dentist can help you obtain that beautiful, glowing smile you have always desired.
Fast And Efficient
Dr. Mata-Stein understands that you have a life to live outside of the dentist's office and that your cosmetic dentistry procedure shouldn't take hours to complete. Instead, she offers fast and effective results so you can quickly return to your routine with a brighter smile.
Common Teeth Whitening Question
Will tooth whitening cause permanent sensitivity?
Sensitivity from tooth whitening is always transient. If the whitening causes any sensitivity, it typically goes away within one to two days after the treatment. After that, the patient returns to the state of sensitivity before starting the whitening process.
How long will whitening last?
Typically, you can expect teeth whitening to last six months to two years. However, studies have reported results up to 10 years. Avoiding red wine, coffee, and smoking—all of which can cause staining—helps preserve the results.
What causes tooth discoloration?
There are numerous causes. The most common are aging and coffee, wine, tea, or tobacco consumption. In addition, certain antibiotics or excessive fluoride may also cause tooth discoloration.
Schedule A Consultation Today!
Call our Denthetics, LLC team at (262) 612-3807 to schedule an appointment to brighten your smile today. With over 25 years of experience and training, we treats patients with teeth whitening from Kenosha, Pleasant Prairie, Somers, Sturtevant, WI and many surrounding areas. Dr. Mata-Stein also treats whitening patients at her dental practice in the Loop area of downtown Chicago.